Bridging the Worlds of Comics and Animation
[PUBLISHING]
BRIDGING THE WORLDS OF COMICS AND ANIMATION
People often assume that making a graphic novel is pretty much the same as making an animated movie; some people even use anime and manga interchangeably—or that people can seamlessly jump from one field to the other. Even though perhaps a screenplay bears similarities to a graphic novel script, a storyboard is only a very distant cousin to an actual comics page.
I've had a place in my heart for both comics and animation for as long as I can remember. In second grade I made my first mini-comic, which I sold at recess for a few pennies—a memorable tale called "The Men and the Mosquitoes." By sixth grade I was also making stop-motion shorts with a Super 8 camera; one of the more elaborate ones had Rodin leaving his studio, and a little gargoyle sculpture coming alive in his absence.
Decades later, in my editorial life with First Second, I really enjoy bridging those fields when possible. It's not hard to find artists and writers who already live in both spaces. Take Vera Brosgol.
Vera spent many years as a character designer at Laika Studios—and perhaps that accounts for some of the marvelous acting and highly expressive quality in her graphic novels. Her emotional clarity at every beat looks kind of effortless—but anyone making comics can appreciate she's in a league of her own.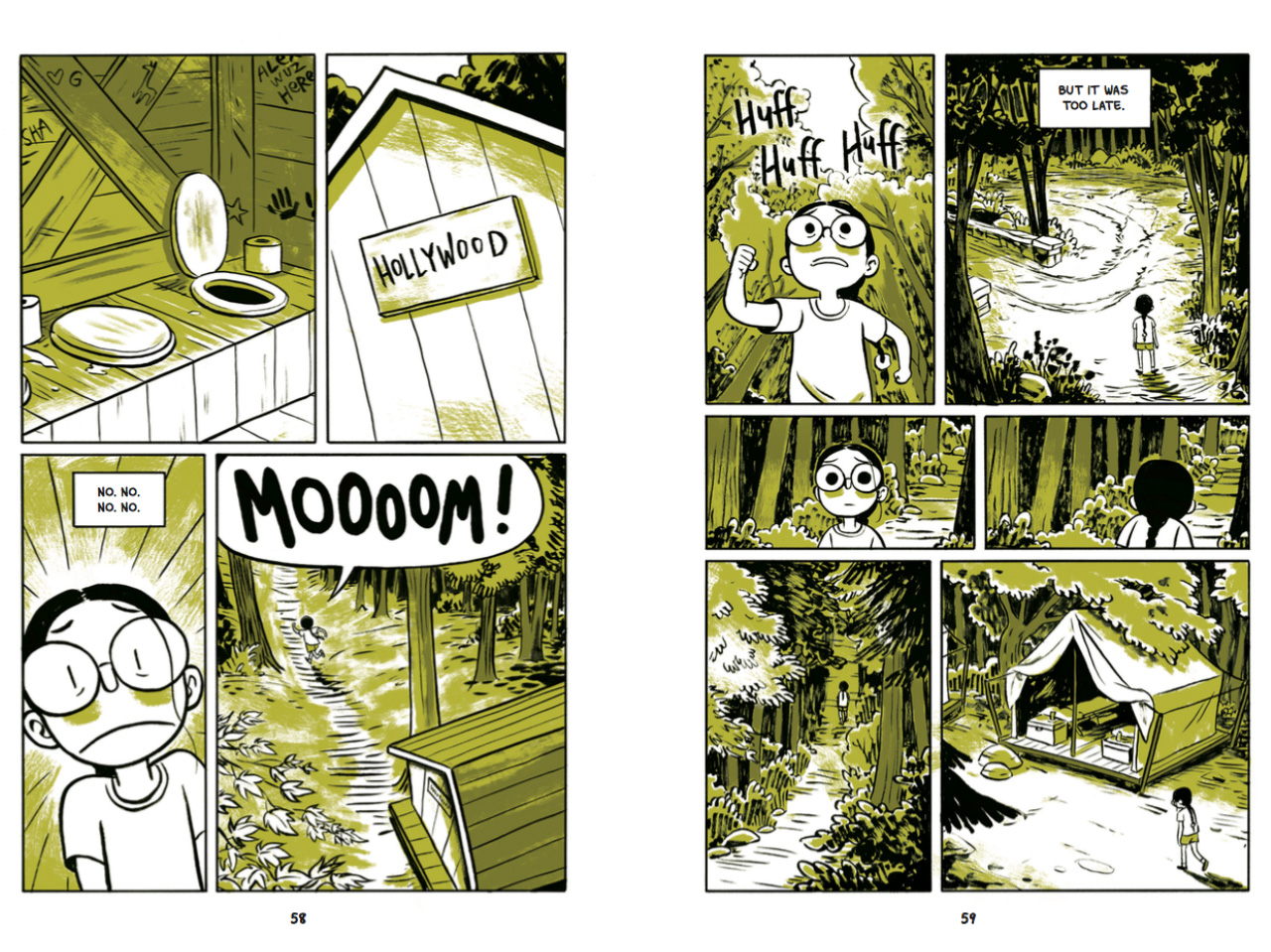 Or another example is Alex Puvilland, who worked for many years in visual development at Dreamworks. What he does in Scott Westerfeld's superb two-book SPILL ZONE is highly cinematic, and in some ways as binge worthy as Stranger Things… But Alex is no newcomer to comics—and he uses the medium to its strengths, and pushes it in brilliant ways.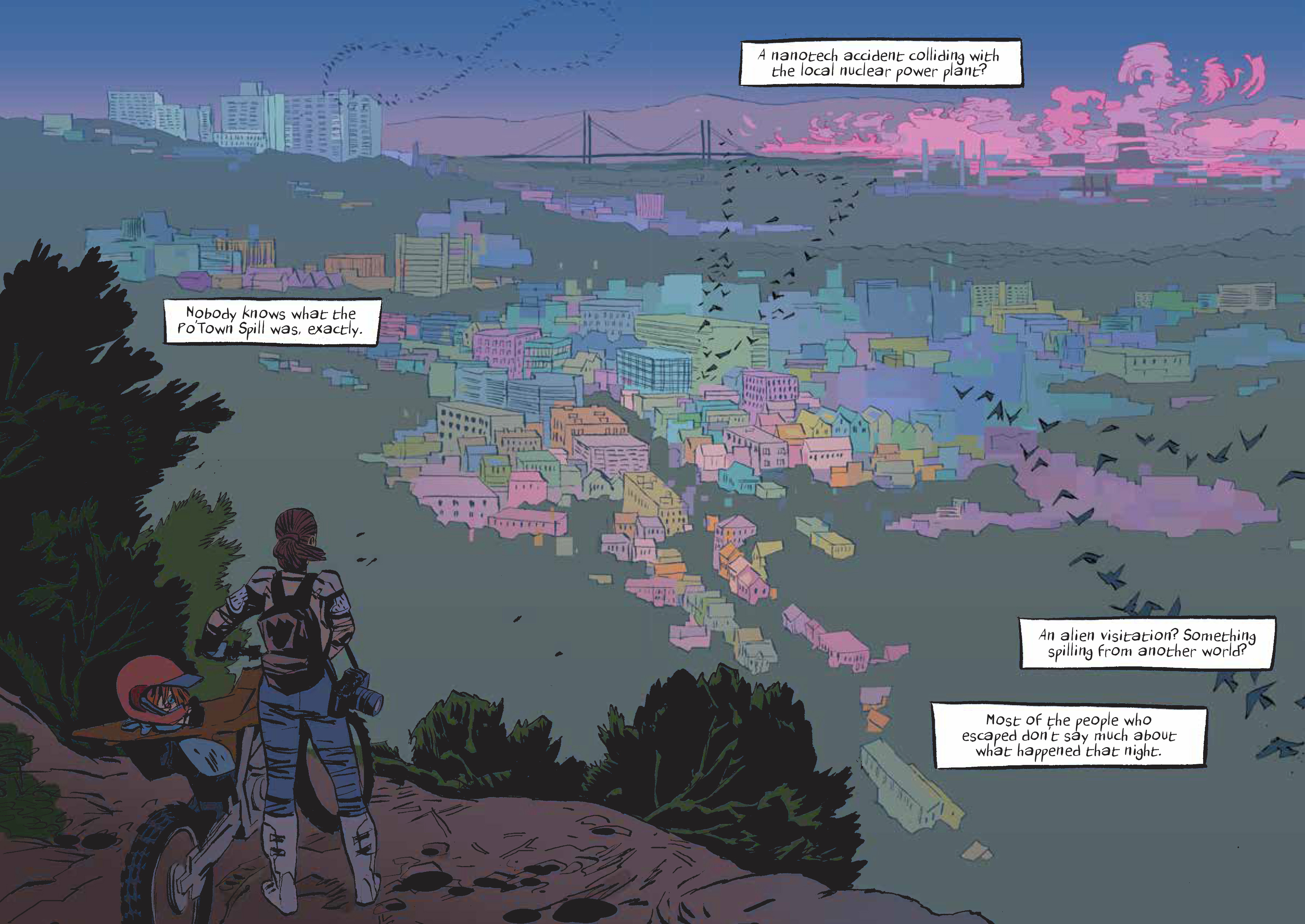 Benjamin Renner directed the animated feature Ernest and Celestine, a delightful treat in a lavish watercolor style. When he showed me his comics strip project The Big Bad Fox—a truly hilarious tale of a reluctant villain among farm animals—it was clear his sense of timing and dialog could shine in the comics form.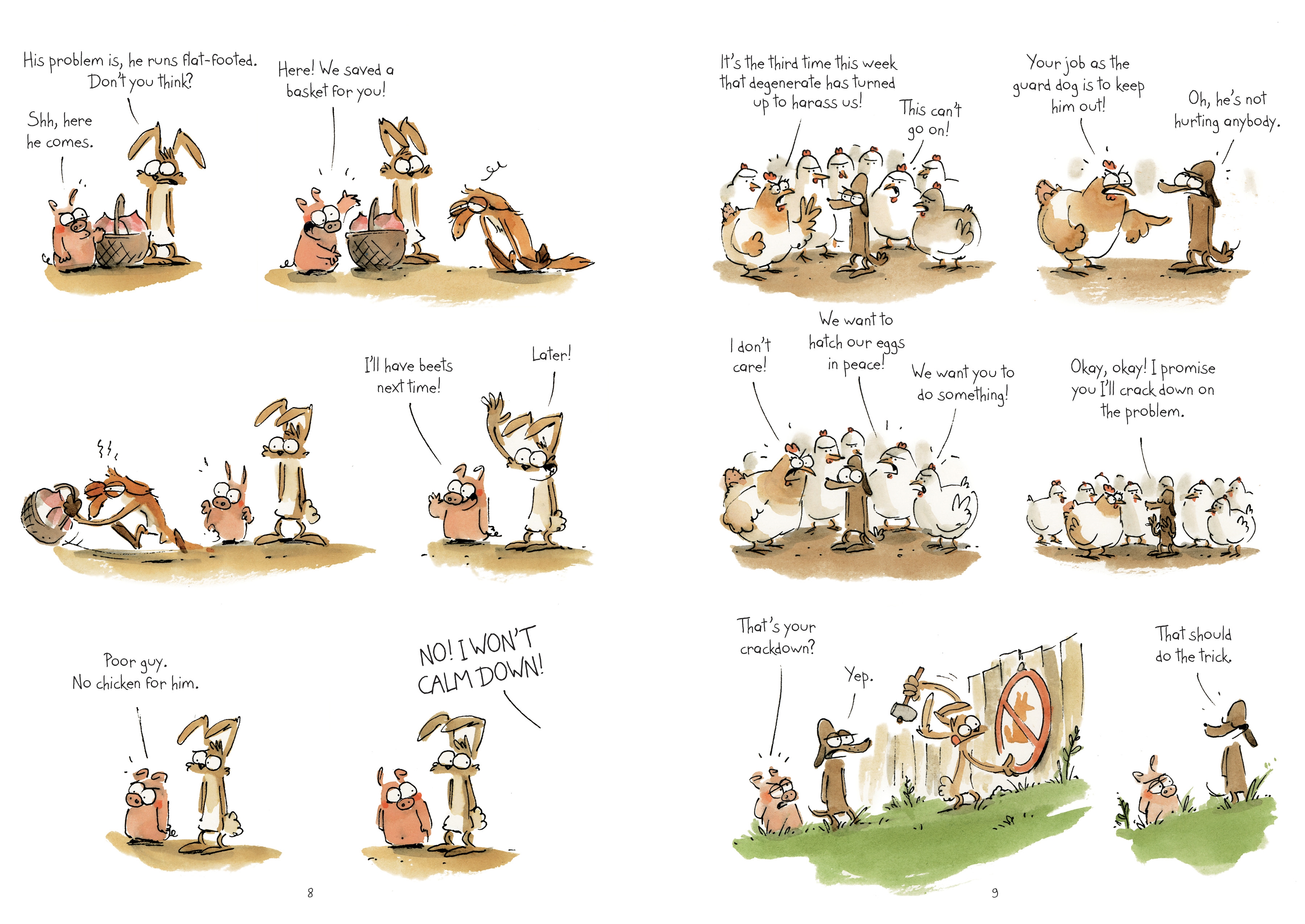 There are actually many graphic novel authors who've come from animation, or who straddle both disciplines, from Matt Groening, to Tony Cliff, and Faith Erin Hicks.
Dice Tsutsumi and Robert Kondo are two recent arrivals of note. Star artists and directors at Pixar, they left and founded their own studio, called Tonko House. Their first animated short, The Dam Keeper, was nominated for an Academy Award, and universally praised for its lush luminosity and an esthetic that suggests oil painting come to life… When they were submitting it as a book project, they were determined to have it published "in the house of Gene Yang" as they put it—Gene is after all a hero to a great many comics people, not only Asian Americans. The Dam Keeper is certainly one of the most painterly graphic novels we've published, and I'm very proud of it. Dice and Robert made the journey to the comics medium with passion and humility, and the result speaks for itself.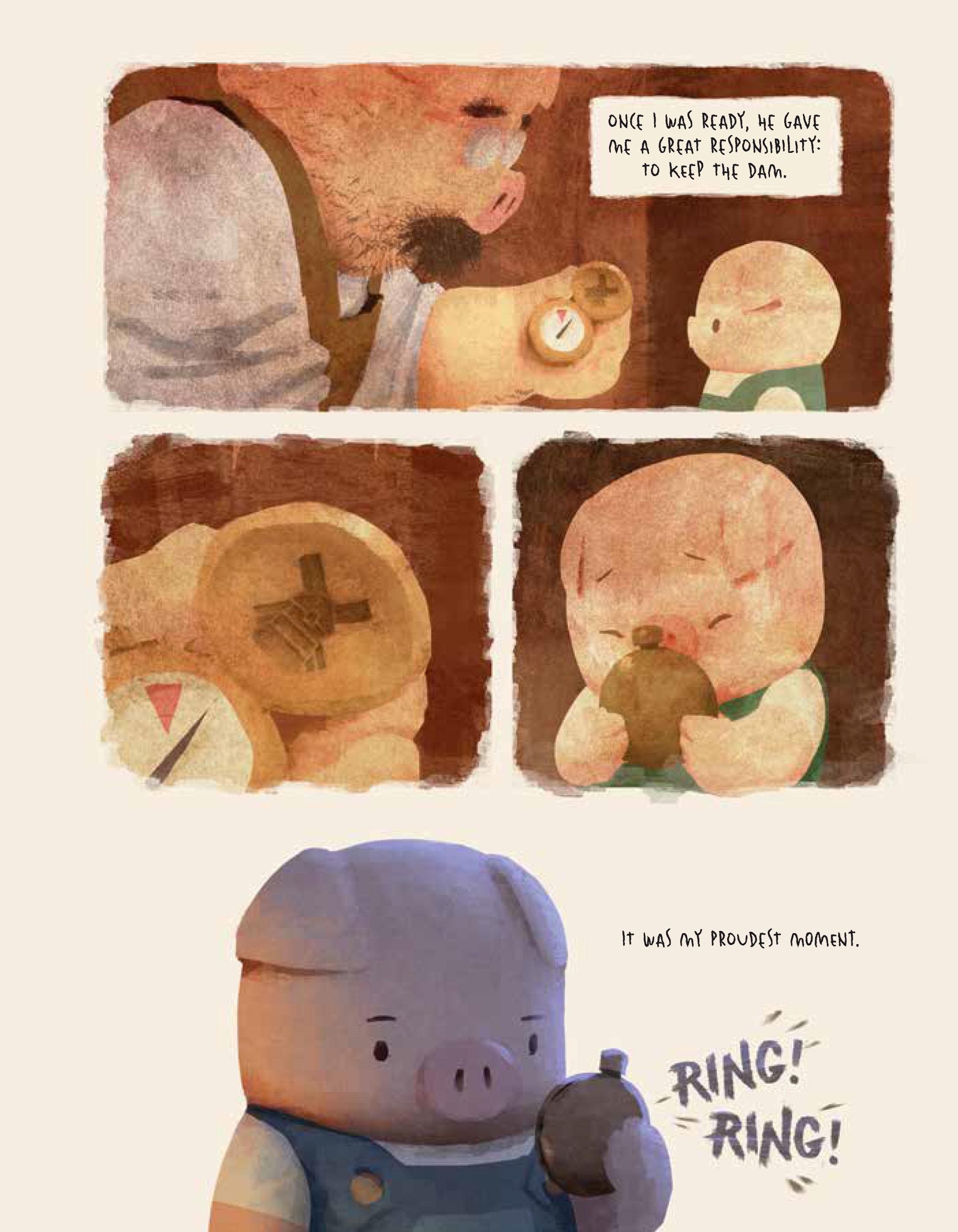 There are so many others, come to think of it... One you can look forward to is the highly ambitious THREADWORLDS, by Bryan Konietzko. Bryan is the co-creator with Mike diMartino of Avatar the Last Airbender and Legend of Korra—groundbreaking shows in so many ways, and for many of us a beloved Gold Standard. Avatar was a show I remember fondly discussing with Gene Yang and Derek Kirk Kim, and treasuring the fact it might have been the last cynical show on American television.
When I approached Bryan, he was just coming off the end of Korra and needed a break from show business, though not exactly what you'd call a vacation: he threw himself at another mammoth task, in the form of a five-book, highly ambitious graphic novel series Threadworlds.
Working with Bryan has been an inspiration all its own. For his first graphic novel project, he assumed nothing, and taught himself comics like a new language (which it is) with a passion and intensity that was dizzying. He drilled down into the intricacies of word balloons and page composition, schooling himself with book story pacing and different approaches of visual handwriting. He consulted far and wide with some of the best in the field, and now this project (not out for couple years as I'm writing you now) I can sincerely say is shaping up to be one of the most amazing graphic novels I've had a chance to edit.